MitoPrime®(L-Ergothioneine), the New"Longevity Vitamin", employs the Previously Unknown Nutrient Transporter ETT (OCTN1). L-Ergothioneine is often considered the most comprehensive oral Antioxidant known, which exhibits profound anti-inflammatory actions and protects DNA & mtDNA.
NNB Nutrition (https://nnbnutrition.com/), a cutting-edge branded ingredient supplier and creator delivering new and novel ingredients with an elite global team of scientists, announces that it has filed a PCT patent (PCT/CN2022/074500) on proprietary MitoPrime's benefits with mitigating skin aging. This patent have investigated the safety and efficacy of a composition comprising ergothioneine on alleviating skin aging, and can counteract or delay skin aging signs in a safe and effective way.
NNB's patent studied the safety and efficacy of topica 10% MitoPrime cream in subjects with photoaging. The study researched 28 healthy female subjects 35-70 years of age with Fitzpatrick skin types I-II (Type I: Light, Pale White & Type II: White, Fair, both burns easily) and mild to moderate photoaging, within the 12 weeks, subjects were asked to use 10% MitoPrime Moisturizer on half of face, and Bland Moisturizer on another half of face, with placebo control. The result showed that MitoPrime have overall appearance improvement in skin's radiance, luminosity, and texture. The result also demonstrated that there's no statistically significant tolerability issues noted at any time point, thus proved that MitoPrime had no significant adverse reactions.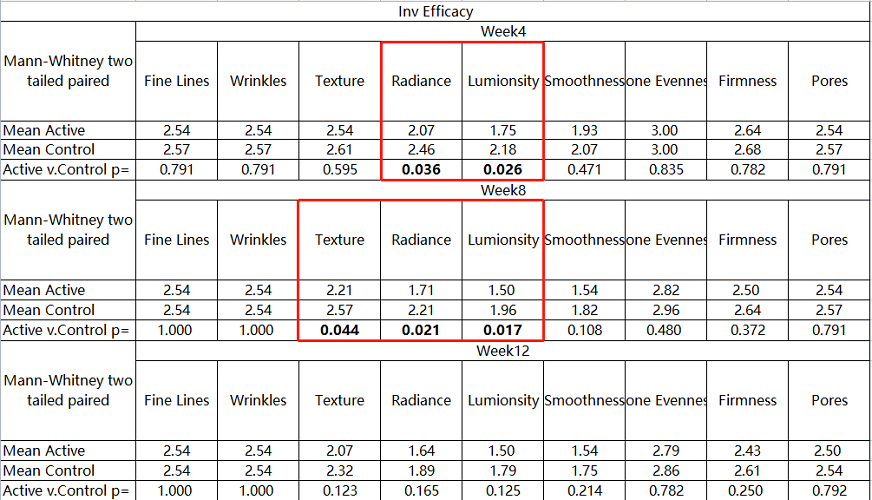 5-point ordinal scale: 0=none, 1=minimal, 2=mild, 3=moderate, 4=severe.
Significance is defined at the p<0.05 level based on a two-sided test.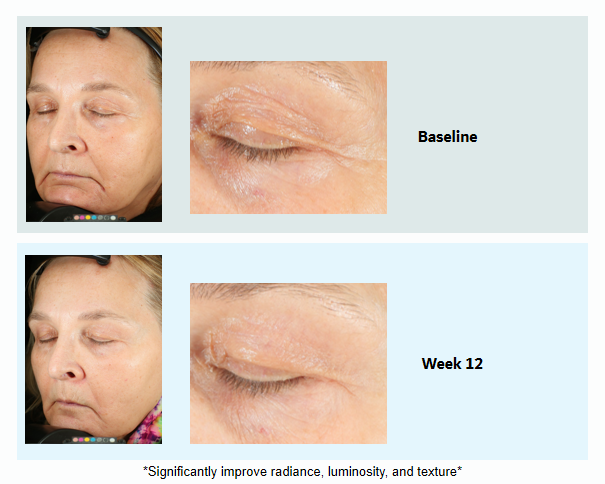 This patented study filed by NNB Nutrition is the first to demonstrate that proprietary MitoPrime effectively improve skin radiance, luminosity and texture, while also proving that MitoPrime does not cause significant adverse reactions. This goes without saying that MitoPrime could act as a safe and viable skin care product candidate to prevent skin aging in the future. NNB continues to increase investment to dermatological trials of Ergothioneine to benefit consumers seeking novel skin care products in the market.
About MitoPrime®
MitoPrime®, NNB's pure Ergothioneine, is NNB Biotech's bio-perfected form of the histone derivative L-ergothioneine now is backed by over 15 studies including clinical trials, human cell & pharma-model C Elegans. MitoPrime® L-ergothioneine is a naturally water-soluble amino acid with a powerful energy-boosting antioxidant property, which benefits in longevity, antioxidant, DNA & genomic stability, immunity boost, anti-inflammation, and cellular & organ health, and can be formulated or work as the sole active ingredient. It is 100% natural, non-GMO, and contains no additives of any kind.
NNB believes that regulatory certification such as GRAS and FSSAI, as well as clinical trials can add more value to the product itself, and also enable MitoPrime to be used more widely, such as in daily supplement, skin care, cosmetics, food, beverages etc. NNB is also looking forward to discussing with you the wider application scenarios of MitoPrime.
Antioxidant of MitoPrime®
MitoPrime® is the longest lasting, farthest reaching, most comprehensive oral antioxidant known, the comparison of MitoPrime® and antioxidants with large market share is shown as below:
Eliminates the Deadliest Radical, Singlet Oxygen, up to 7,500% Better than any Antioxidant Known Today
Eliminates All Oxidants 3,000% Better than Glutathione.
Inhibits Lipid Per-Oxidation 270% Better than CoQ10.
Longer Lasting than Majority of Antioxidant Known, Half-life of 32 Days.
Protects Against Unwanted Apoptosis of Skin Cells by Activating and Protecting Antioxidant Genes
Protecting human skin from UVA induced adverse effects
Free radicals were scavenged
Mitigating skin aging, improved in radiance and luminosity
About NNB
NNB is the leading ingredient-driven biotech company employing over 100 research scientists from more than 10 countries who study, design, and deliver unique ingredients to this industry to maximize health, augment performance, expand longevity and enhance appearance. NNB fosters partnerships with companies in the fields of nutraceuticals, pharmaceuticals, and medical research.
Contact NNB
Company: Nanjing Nutrabuilding Bio-tech Co., LTD. (NNB Nutrition)
Contact Person: Amanda
Email:amanda@nnbnutrition.com
Website: https://www.nnbnutrition.com/
Telephone: +86-25 5881 2792
Location:No. 270 Jiqingmen Street, Suning Huigu, Building E6, Room 2105
Nanjing, China 210017
Disclaimer: This article is reproduced from other media. The purpose of reprinting is to convey more information. It does not mean that this website agrees with its views and is responsible for its authenticity, and does not bear any legal responsibility. All resources on this site are collected on the Internet. The purpose of sharing is for everyone's learning and reference only. If there is copyright or intellectual property infringement, please leave us a message.