Huzhou, China News Agency, November 17th (Hu Fengsheng) On the 17th, 2023 China (Wuxing Zhili) International Children's Wear Industry Trade Fair opened in Huzhou, Zhejiang. 400 industry professionals from various industrial clusters attended this fair, including over 200 foreign buyers and representatives of Chinese chambers of commerce from more than 50 countries and regions such as Germany, France, etc.
"The first batch of overseas warehouses in Wuxing have been opened centrally, and Wuxing Children's Wear has signed an industrial integration development alliance with Zhuji Children's Socks, Lucheng Children's Shoes, etc. Zhili Children's Wear is accelerating its export to overseas." The relevant person in charge of Zhili Town introduced that the international trade fair was held to open up new channels and explore new spaces to overseas.
As the largest children's wear industry cluster in China, Zhili is known as the "China Children's Wear City". It has a full process industry ecosystem from children's wear creativity, R&D design, processing and manufacturing to online and offline sales, logistics, brand operations and etc. with more than 14,000 children's wear production and management subjects, with an annual output of all kinds of children's wear of 1.5 billion sets. In 2022, its sales exceeded 70 billion yuan, accounting for two-thirds of the domestic children's wear market.
With the deepening of China's (Huzhou) cross-border e-commerce comprehensive pilot zone and Huzhou (Zhili) children's wear and daily consumer goods market procurement trade mode pilot and so on, the integrated development of "cross-border e-commerce & market procurement" continues to promote the export scale of Zhili children's wear, forming a "1+1>2" effect.
At a wear company in Zhili, the head of the company, Yao Dong, is negotiating with a Russian customer to prepare for next year's order. As one of the earliest people in Zhili to engage in children's wear foreign trade, his business achieved leapfrog growth in 2022, reaching 19 million RMB.
"At present, the children's wear industry in Zhili is at a critical juncture of Leap-over development. We will unswervingly promote the digital, branding, and international development of the children's wear industry, and embark on a new journey of industry development, focusing on both domestic and foreign interests," said Pan Yongfeng, Deputy Secretary and District Mayor of Wuxing District Committee.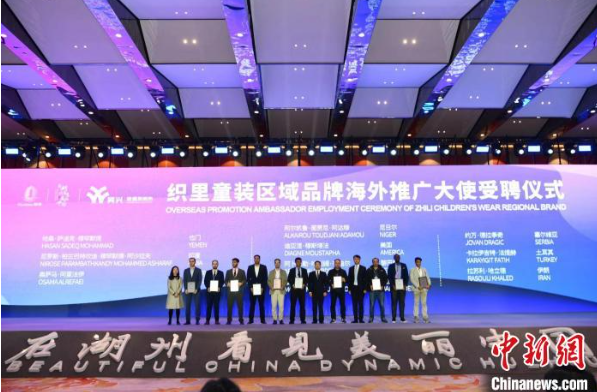 Zhili Children's Wear Regional Brand Overseas Promotion Ambassador Appointment Ceremony ( picture provided by Zhili town)
From January to October 2023, the total purchasing trade exports of children's wear and daily consumer goods market in Huzhou (Zhili) exceeded 9 billion yuan, an increase of 21.4% year-on-year, of which children's wear exports accounted for more than 15%. At present, Zhili has nearly 1,000 children's wear enterprises to open overseas business and exports covering 153 countries and regions.
"Today's world textile industry is undergoing a great change of modernization. It is an important issue for China's textile and apparel foreign trade industry to actively explore the booming emerging markets and the co-construction of the 'One Belt, One Road' market, to seek and cultivate new market space, and to gradually reduce its dependence on traditional markets." Cao Jiachang, president of China Chamber of Commerce for Import and Export of Textiles, believes that at the opening ceremony of Huzhou Open Week, Wuxing District, together with Wangjiang, Zhuji, Yunhe, Wenzhou and Jinjiang, established an alliance for the integrated development of the children's industry, holding a group to expand the overseas market, which is a brand-new attempt.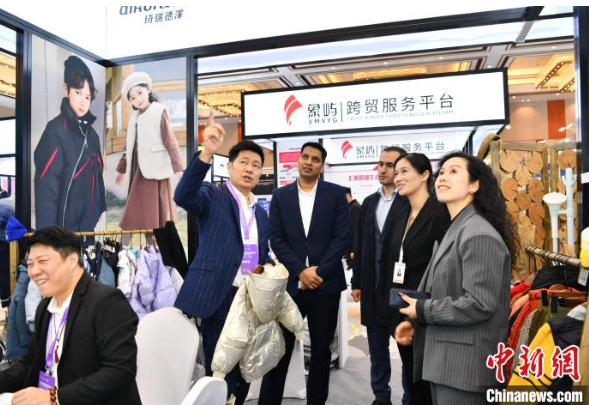 Overseas merchants negotiation in the children's wear exhibition area( picture provided Zhili town)
On the scene, the organizers held children's wear regional brand overseas promotion ambassador appointment ceremony. Zhili Children's Wear Chamber of Commerce, School Uniform Association and Nepal-China Chamber of Commerce & Industry, Armenian Chinese Partnership Center NGO, Singapore Tampines Small & Medium Enterprise Association signed of strategic cooperation agreements for children's wear to add momentum to children's wear going overseas. Launching Ceremony of Amazon Global Selling in Huzhou Industrial Belt provided business opportunities to more outstanding industry Children's wear brand enterprises, promoting the Zhili area and even the city's cross-border e-commerce industry development; more than 200 participants at home and abroad also attended the Zhili on-site visit, negotiations, via the children's wear supply and demand sides equal, friendly matchmaking to accurately build up a bridge for cooperation in the later stage. (End)
Disclaimer: This article is reproduced from other media. The purpose of reprinting is to convey more information. It does not mean that this website agrees with its views and is responsible for its authenticity, and does not bear any legal responsibility. All resources on this site are collected on the Internet. The purpose of sharing is for everyone's learning and reference only. If there is copyright or intellectual property infringement, please leave us a message.